May has proven to be risk-awareness month for bond traders, as the 3-month, 5-year, and 10-year yields all experienced significant declines as traders withdrew from corporate debt markets and saturated Treasury markets.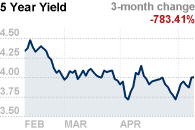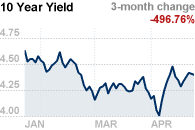 via CNNMoney.com
A rise in the perceived riskiness of corporate debt encouraged traders to reduce demand for
corporate bonds and increase demand for Treasury instruments, causing Treasury prices to rise and Treasury yields to drop as the supply of loanable funds increased.
"As a result,"
according to Investor's Business Daily
, "Treasury bond funds soared in May. They gained 3.48% on average, according to preliminary data from Lipper Inc. Funds owning agency-backed securities scored gains too."
No doubt, the recent activity within the bond markets can be attributed to the debt crisis in Europe. Treasury bills, bonds, and notes are considered to be safe-haven instruments, as reflected by their routinely stellar credit ratings. However, Treasury prices fell yesterday and it appears that Treasury yields are on the rise again.
According to Reuters
, "
Benchmark 10-year notes US10YT=RR were down 15/32 in price at 101-18/32 after rising to a session high of 102-2/32. Their yield, which moves inversely to price, was 3.32 percent, up 5 basis points from late on Tuesday but still far below the high of 4.00 percent hit in early April." This indicates that perhaps a mild bullishness exists among traders.